Explore current
Interactive game design


︎


An exhibition playground that encourages children to explore electricity by assembling large scale circuits and navigate an immersive world.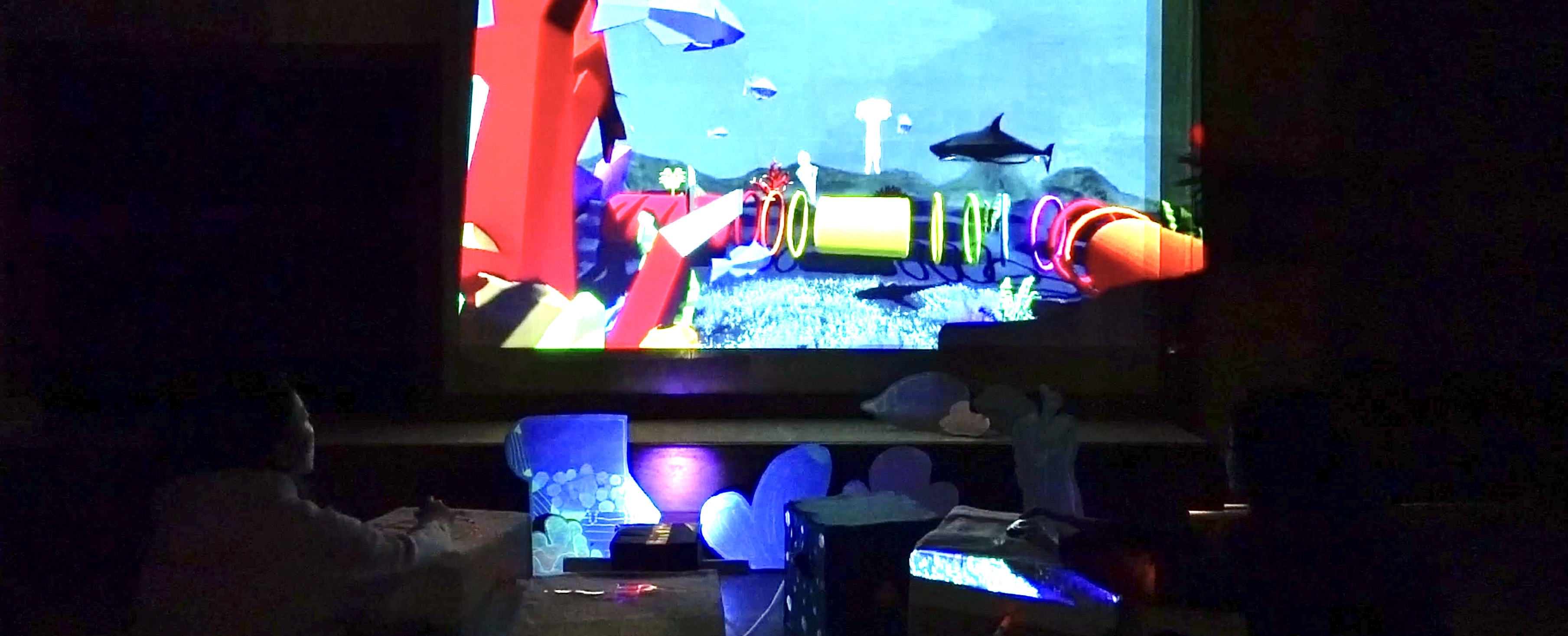 TIMELINE
January, 2020 - March, 2020
METHOD & TOOLSHuman-centered design method;
Miro, Figma, Unity
MY ROLE
Ideation
Game design
User research
Prototyping & Fabrication
TEAM
Miki Bin
Divya Polson
Veronica Wojnas
Overview


By following the human-centered design process, we created a game in a exhibition or museum setting that kids can work together to connect the big scale circuit to explore the submarine world.
Background
Within the ten-week time limits, we need to design a walk-up and play game with social value. The game should be made for multiplayer. It must support at least two simultaneous players: one using physicality for input and the second player using a fabricated input controller.
Ideation
We conducted secondary research to gain an overall understanding of the existing walk-up and play games. Based on research, we ideated and sketched out ideas as a team.
We affinitized and grouped ideas, and then leveraged
dot voting
to help us down-selecting. We narrowed down to three ideas which including:
Avoid the Bar, Building a Habitat, and Embodied a Circuit
.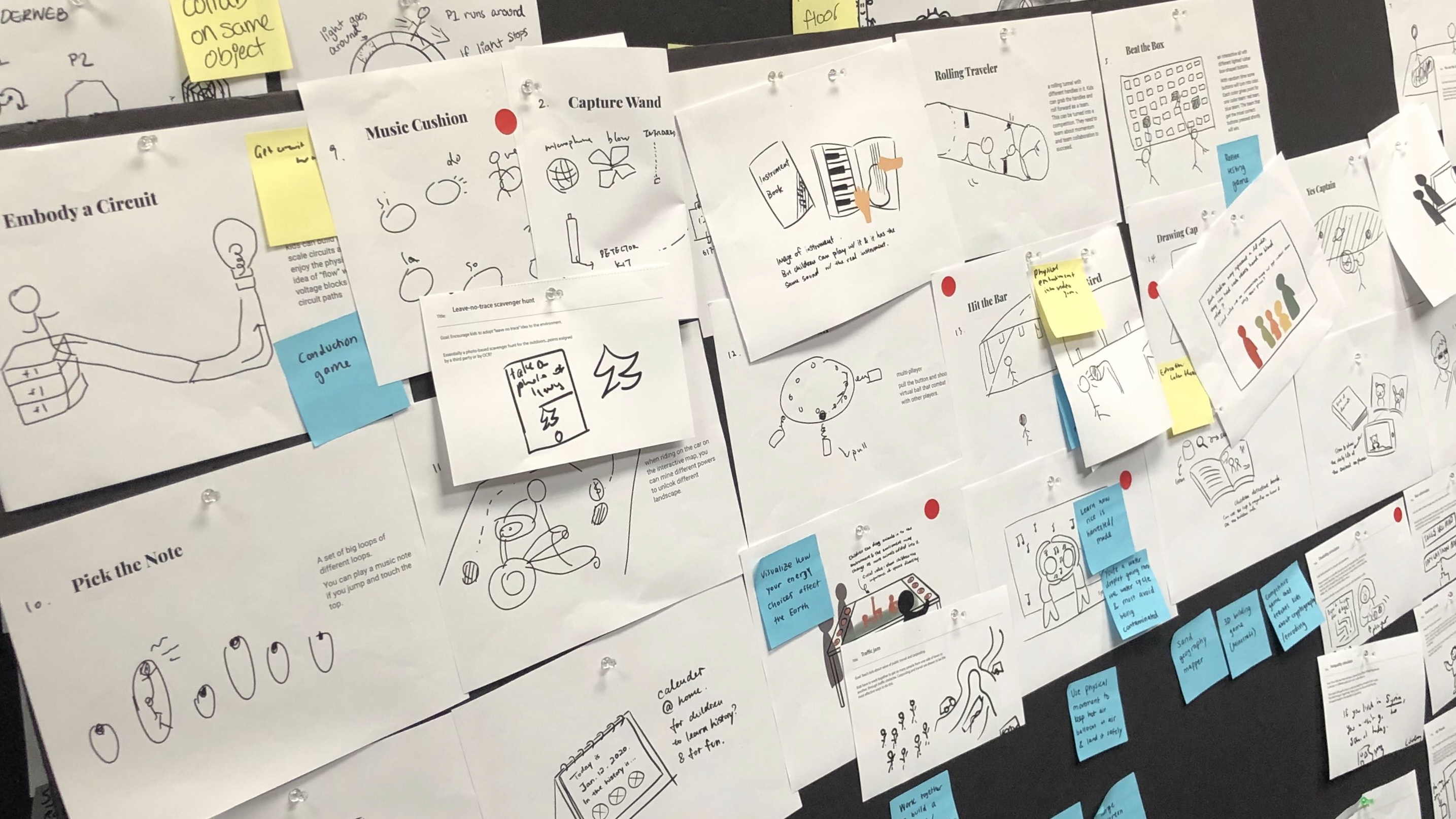 <Ideation ideas>
By conducting co-design session with kids from UW KidsTeam, a group of children aged from 7 to 11, we are able to evaluate three ideas and settle with the idea
Embodied a Circuit
.
<Kids playing with the Embody a Circuit game>
Some (2-3) players tried to destroy the boxes, by stomping or sitting on them. Allowing them to run across some of the boxes wasn't enough - they wanted to break them.
Players(children)' knowledge of electricity varied widely.
Instead of collaborating equally, there was usually one main participant while others watched. Others had to be prompted to participate.
Some players didn't understand the intention of the game, and whether it ended at building the circuit or running around what they had built.
Make the game soft and played around with as furniture in the home.

Able to provide all users same level of engagement.
Balancing learning the strict scientific rules of electricity, with leaving room for creativity.
User testing:
Wizard of oz
We then conducted a Wizard of Oz session. Participants were asked to build a circuit with cusions and light, we faked the outputs to get a sense of the interactions and their reactions.

Participants think the circuit game is too short for them to play.
Participants mentioned sound might be a fun output. At the same time, participants like the light variations a lot. We decided to incorporate more visable feedback when users connect the circuit.
Incorporate stories or senarios to have players have a more emersive experience.
Add more types of immediate feedback.
Physical prototyping
We settled down with the idea of building a large scale circuit to explore the submarine. I was the lead of this step.

The large-scale circuit will be composed of 4 soft blocks: a switch block, a motor block, a power block, and a light block. Large, long wires are used to connect the different blocks. We leveraged GLS Audio 1/4" Jacks as the connection head.

As players connect parts with power correctly, the propeller, UV light, and the bubble machine will start to work. After children lighten up the UV light, they can control the light and view the submarine painting on the wall that painted with UV-reactive paint.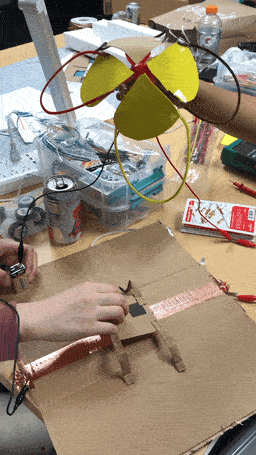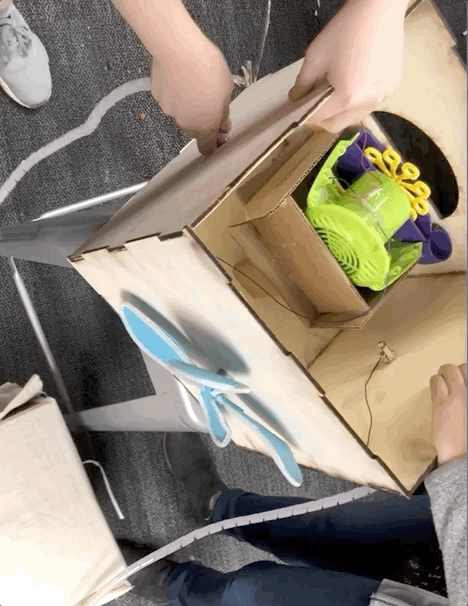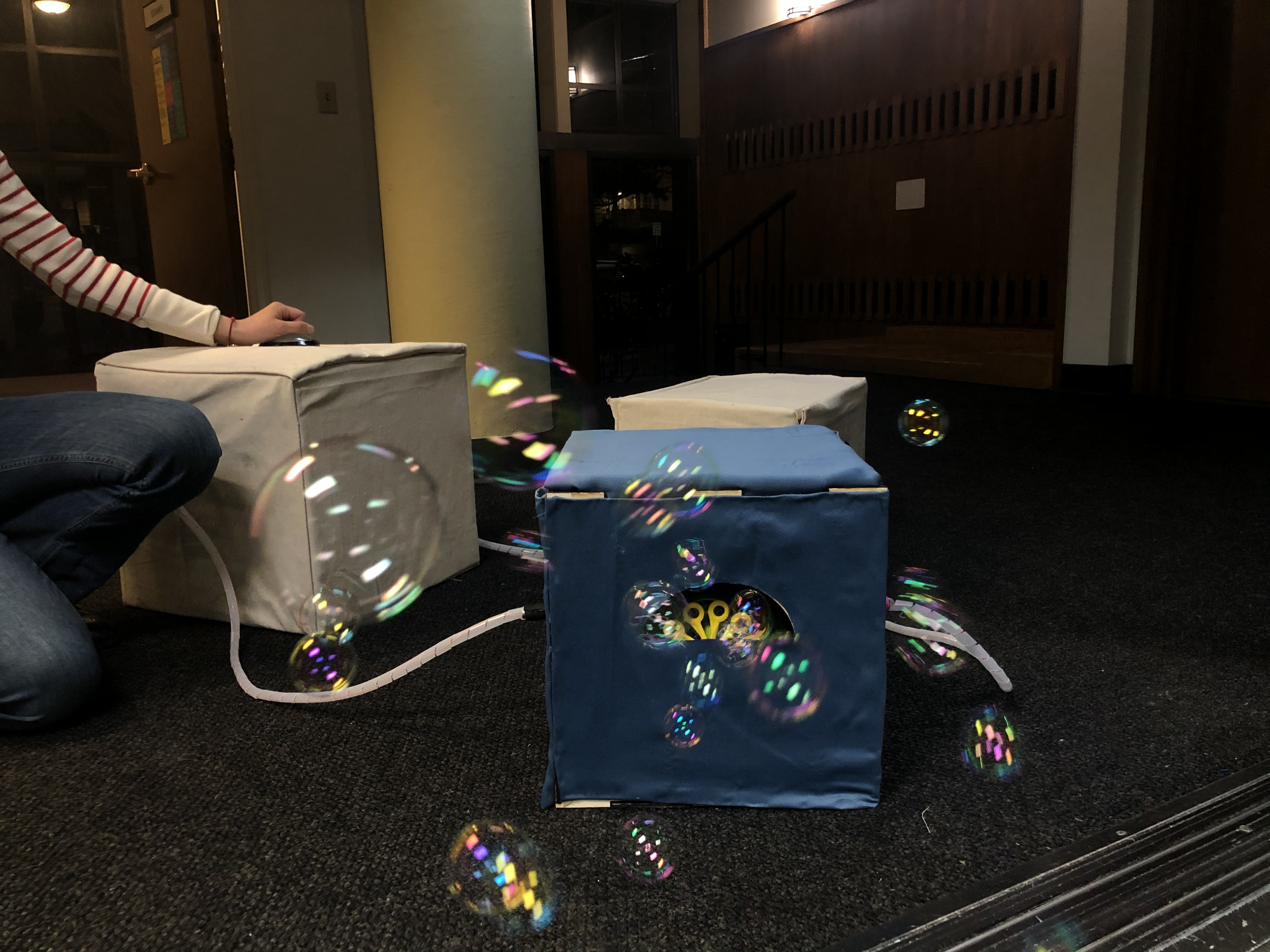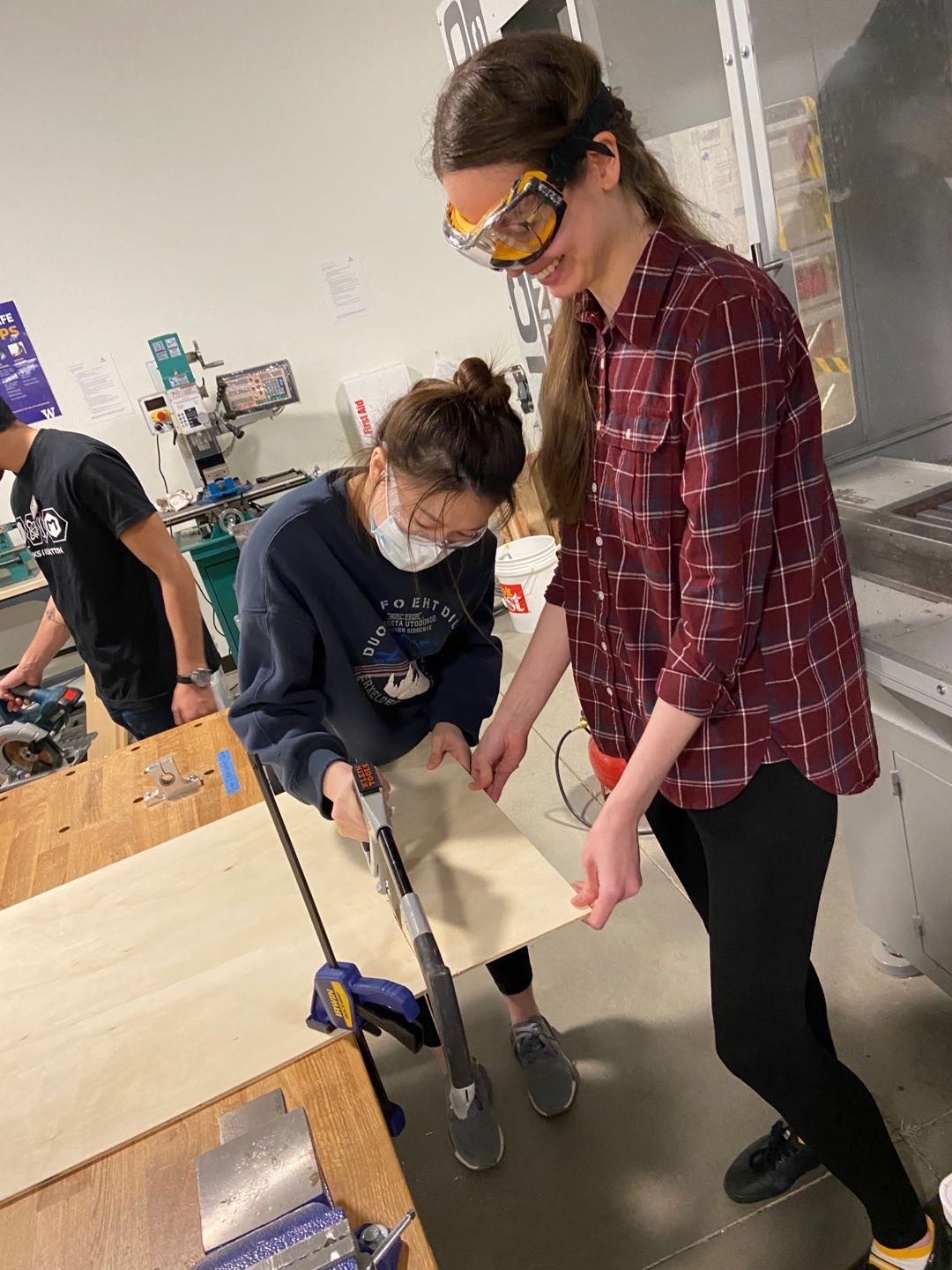 To facilitate learning and to make it intuitive enough for players to connect, we used color coding for the input and output of the power. We also designed different patterns on each block to indicate the funcationality of the block and decorate it.


User testing
We got chance to work with kids in the UW Kids Team again and brought our prototype to test with them. This time we got another big insight that lead us to make
another iteration
on this game is on the analog game interface.
Kids was attracted by the UV light view at first, but that attention did not last very long and they start to lose interest in the game. We were inspired by the children's drawing and ideas on what they expect to see in the submarine. Therefore, we decided to make an emersive submarine. In the submarine, we also wish to incorporate the learning of the electrcity.
My teammates led the development of the 3D submarine with
Adafruit Feather Bluefruit LE
, and game development in
Unity 3D
. We leveraged the Bluetooth to connect the joystick to the 3D underwater world.
<Pictures during game>
Final Game
The game will be in an exhibition or museum setting; kids can work together to connect the big scale circuit to explore the submarine world. Blocks include a switch block, a motor block, a power block, a light block, and an electric controller joystick. When players successfully connect the electronic controller joystick to power, the projector will turn on. Players can start to use the joystick to control their view in the underwater world.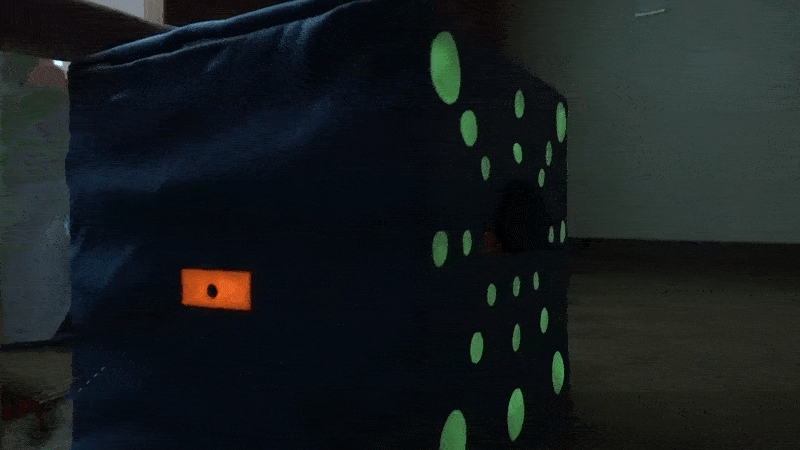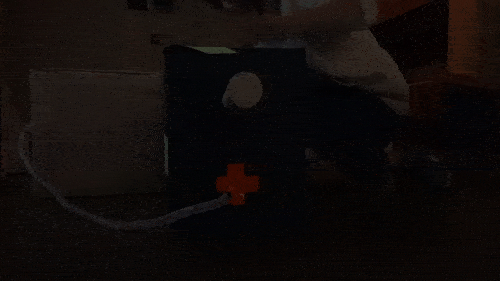 Takeaways
Pushing for better solution
Throughout the process of doing this project, we experienced many different kinds of circumstances. At the end of the quarter, we experienced the outbreak of COVID19, and we were not allowed to get into the studio to finish our project. As a team, we worked very hard together and completed our project before the studio's closure.
Physical prototyping really can take a long time to finish, especially when we near the end of the quarter, and it also requires a lot of courage to pivot. We pivoted on our ideas several times, made iterations based on co-design session feedback, and spent a lot of time doing the fabrication. But when I look back, I think each iteration has its value, and I can see the improvement every time. We all very proud of our final design in the end!
---